http://www.theestateovcreation.co.uk/mikrormx.html
AMOEBA A/V aple_mikromemetic remix
Hello, I've just uploaded a new A/V remix
from the [ AAV aple performances]
This one is a bit of an uber synched micro glitch driven machine funk epic,
and as within the rules of the AAV aple_project the only audio
heard is that from within the quicktime movies being triggered
in arkoas by ableton sending all the midi data/notes/cc values.
All source movies playing from arkaos are 10bit uncompressed
quicktime.movs, 720 x 576 with 48k linear raw audio compression.
All clips and a copy of arkaos and ableton were copied onto a 3gig ram disk
and the sessions were ran and created from the ram disk.
The web version is 500 x 299 and a 750k.flv flash streaming movie.
http://www.theestateovcreation.co.uk/mikrormx.html
AMOEBA A/V aple_mikromemetic remix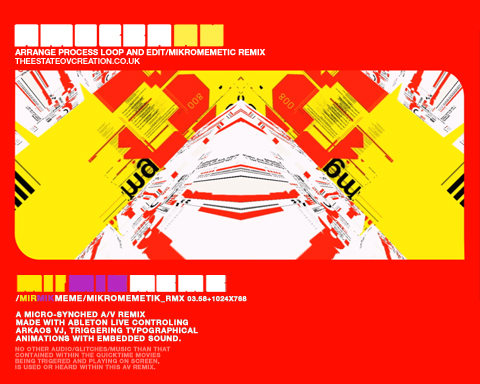 AMOEBA
WWW.THEESTATEOVCREATION.CO.UK